Super Sinbad XL 235cm and plan   99
€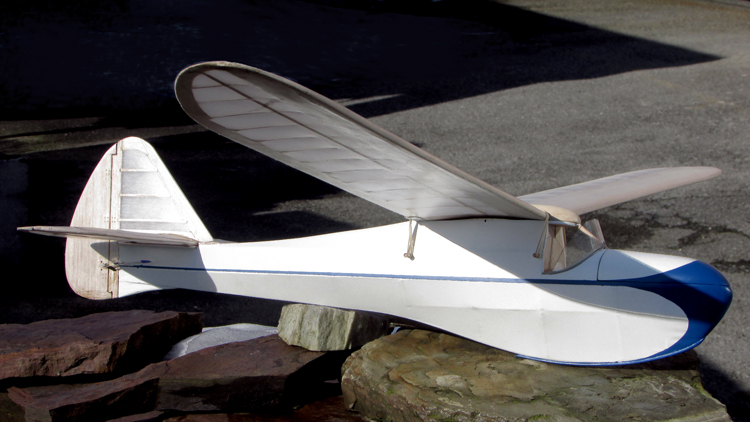 A 1949 glider sold at the time by Berkeley. A version enlarged to 155cm and planned for the RC is part of the assortment of Caramba since several years.

Now, an even bigger version is available! The plan is printed on two large sheets and the two wings are shawn. Many pieces have been cut to the right size. And finally, an English and French notice is available.

Warning!

The enlargement was realized by enlarging the Sinbad 155cm plan. There is therefore no particular adaptation to the increased span, except to adapt the dimensions of the parts needed. Thus, the wing is designed in one piece. It is obviously possible to adapt the model to the needs of the builder and for example to make wings in two parts or to adapt the wing attachment system or.... But these changes are left to the builder care.

This is clearly not a model for beginners in building, but a short kit for experienced modellers.
List of additional needed wood. Length 1000mm. Liste du bois supplémentaire nécessaire
| | |
| --- | --- |
| Balsa 8mm |  Quantity/quantité |
| 8*16mm | 6 |
|   |   |
| 8*33mm | 3 |
| 8*15mm | 3 |
| 8*8mm | 6 |
| Balsa 6mm |   |
| 6*18mm | 2 |
| Balsa 5mm |   |
| 5*8mm | 5 |
| 5*5mm | 4 |
| Balsa 3mm |   |
| 3*100mm | 1 |
| Balsa 2mm |   |
| 3*100mm | 6 |
| Pine/ pin |   |
| 5*10mm | 6 |
| Balsa blocks/blocs balsa |   |
| As needed/ à la demande |   |
| Dowel 5mm/rondin 5mm |   |
| 5*5 mm | 1 |


Construction notes are here

To order, send an e-mail to This email address is being protected from spambots. You need JavaScript enabled to view it.

 

 
Specifications

Wingspan: 235cm

Surface area: 57 dm2

Length: 131 cm
S&H: see here